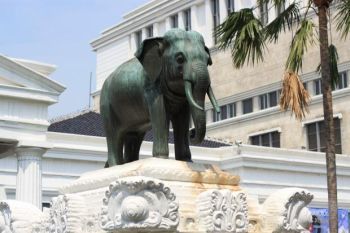 National Museum of Indonesia (Museum Nasional) that night was unusually hectic and bright, when it was supposed to be silent and dark. Some crowd consisting of youths was spotted, scattered throughout the museum. They seemed to have fun as night set in.
I was part of the party as well.
I never fancied to visit the museum at night. A friend said it gets too eerie and she is not a fan of being in the complete darkness and shocked by sudden scream of an unknown creature, for example.
I used to visit the museum once a couple of years ago. Alone, during daylight though. And what I visited was the original museum site, known as Gedung A or Building A.  It was built around 240 years ago.
If you have no idea how this museum was founded, I will let you know here. For your information, it is way older than the republic itself. The museum was initially founded, officiated and named Bataviaasch Genootschap van Kunsten en Wetenschappen [Batavian Society of Arts and Sciences] on April 24, 1778, by the Dutch Government. At the time Batavia [Old Jakarta] was occupied and governed by VOC or East Indies Trade Company. The first building of the museum  located in jalan Kali Besar was a house donated by J. C. M. Radermacher [we shall touch more on this in the next paragraph] served as the headquarters of Dutch renowned thinkers living in East India [later known as Indonesia]. It was built thanks to the advent of the Age of Enlightenment in Europe. Dutch top thinkers had previously built their own association in Haarlem, the Netherlands, called De Hollandsche Maatschappij der Wetenschappen. Upon seeing this, a number of Dutch intellectuals who lived in East India were also motivated to build and foster the same intellectual community far away from their homeland.
We were at the museum that very night to commemorate that day, when the Dutch thinkers gathered and launched their intellectual and scientific pursuit and mission in the country which their country annexed. The co-founder, Jacob Cornelis Matthieu Radermacher, was known as a public and historical figure contributing much to promoting the East India arts and sciences. Born in the Hague in 1741, Radermacher was a young VOC official. He was also a founder of the first Freemason order  in Batavia. He proposed the establishment of Batavian Society of Arts and Sciences, especially  physics, biology, literature, ethnology and history and published research findings. The association later transformed into Museum Nasional.
His contribution was enormous, ranging from donating hiw own mansion in Kali Besar [an area in Old Jakarta, located in the northern part]. He donated his highly valuable collections, such as archeological artefacts, musical instruments, books and six filing cabinets loaded with documents pertaining to the association.
As a botanist, Radermacher made flora and fauna catalogs of Java and Sumatera island throughout his tenure in Bataviaasch Genootschap van Kunsten en Wetenschappen. On his voyage back to the Netherlands, he was tragically murdered in 1783 after a bloody onboard mutiny.
And I was there to be one of the participants, looking for rare experience And it turned out GREAT.
Around 7 pm, participants were divided into several groups as they would be led on a brief tour. It only lasted for 30 minutes so we in no way could enjoy the proper, serious and detailed museum tour and asked some questions.
I have previously roamed some spots in the museum especially in Building B (Building B, the newly built one with modern yet dry and identity-less architecture and Greek-style pillars which to me are so out of Indonesian cultural context).
The tour leaders guided all participants in three spots which represent the past and present of the museum. The first to visit is the awkwardly named art installation, "Ku Yakin Sampai di Sana" [roughly translated, "I Believe I'll Be There"], skillfully crafted by Balinese artist I Nyoman Nuarta. Having bronze and brass as materials and the gigantic size, the artwork catches visitors' eyes very easily. To myself, the artwork looks like a blackhole sucking people into infinity.
The second spot was Taman Sanken (The Sunken Garden). This is located between Building A [the 240-old building] and Building B [the modern one]. Still under construction, the garden was not properly lit. It is one part of the expansion of the museum [read on here to find what is in the grand plans]. But I am more than sure that after the completion, this will be an Instagrammable corner for everyone to take pictures at.
The third was probably the most familiar spot. That is the elephant statue, gifted from the Crown Prince of Thai Kingdom, Chulalongkorn. The statue is the reason why the museum is widely known by the locals as "Museum Gajah" [the Elephant Museum].
The best was yet to come. The last to visit was the most precious collections of the museum on the fourth floor. We participants were not allowed to take any photos in the exhibition room and displays for whatever reason as there are risks people will misuse photos of these artefacts to make fake items and sell them while claiming they are original.
In this place, there are a few horrid stories the leader presented us. First, the story of mandau [a saber of Dayaknese men] and mengayau tradition [beheading enemies]. As if beheading humans were not traumatic enough to even imagine, we were told that Dayaknese tribes also used to keep these bodiless heads of their slain enemies at their homes. These were even treated as trophies. The more enemy heads a Dayaknese man had, the more respect he would have from people around him in his tribe. And it was believed that the more heads a Dayaknese man had, the more power they possessed, making him to become unbeatable. And one of the ways to amass this power was to sleep on one of these enemy heads every single night. An expression of terror immediately followed the explanation.
I myself still believe that to some extent this seemingly inhumane tradition still exists in Borneo as I was told sometime ago by a friend residing in Singkawang that he witnessed  Dayaknese men collected heads around town when an ethnic riot broke in Sambas, West Kalimantan. He said the horrendous scene left him a permanent psychological scar.
As I observed, the museum management seemed so eager to revamp its image as "Museum Gajah" to "National Museum" which deserves its national status.
And I safely say this is one of the best, most creative efforts made to attract both local and global visitors, as well as to let them know that Museum Nasional Indonesia is trying to be more innovative in any possible fashion so more young people learn history without too much boredom and frustration. Visiting museums can be awesome and cool, just like malls, with which urban Indonesians are now increasingly  familiar .
To stay up-to-date with the museum's upcoming events, never hesitate to follow its Instagram account @museum_nasional_indonesia and visit its official website MuseumNasional.or.id. (*/)
P.S.: As quoted from the museum management representative, actually the first building of this museum was NOT Building A on Jalan Medan Merdeka Barat, Central Jakarta, just the opposite of Monumen Nasional (Monas). It was a house donated by J. C. M. Radermacher, its co-founder.