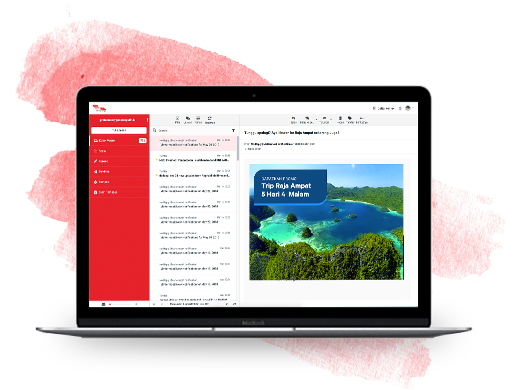 CONSIDERING the creepy dominance of Gmail in Indonesian market, at the same time I too cannot deny my dependence on this webmail service. I have owned and actively used my Gmail account since 2009 and there must be countless data I have stored in it. The service has really made my digital life easier and more comfortable.
But far before using Gmail, I had used Plaza Mail [correct me if I am wrong] in my college days. And the experience was — as far as my memory served right — quite good, if not extraordinary. Somehow I no longer used my Plaza account, partly because I have forgotten the password and do not bother to try recovering it.
In short, I truly miss that sort of free email service built by fellow Indonesians or Indonesian company. Why? Because if your nation can build its own products, why do not you support it by using them? Using our own digital products also supports our digital industry growth. I have been so sick of seeing Indonesian treated as a mere market. With resources this big, I think we could have been bigger than what we are now. Also, using our own digital products save us from negative impacts of data misuse done by foreign parties. If anything bad happens, suing service providers in our own jurisdiction is more plausible than doing so to overseas service providers such as Facebook, Google, Yahoo, etc. Of course other reasons [like what is pointed out by Marsya Nabila of Dailysocial.id here] make sense as well but my own motive is mostly nationalism.
So when I discovered Merahputih.id on the 15th of April 2018 [amidst Facebook-Cambridge Analytica privacy scandal], I was so delighted I 'jumped into the wagon' right away.
Having used the service for roughly a month, I can tell you it is AWESOME as the substitute of Gmail. At first I thought I can totally migrate to my Merahputih.id and close my Gmail account but then I decided to still let it active for a while to allow people who know nothing about my shift reach me through my Gmail. Now I have been less and less on my Gmail, which is good.
The bright side of this service is that it offers you 50 GB inbox capacity [compared to Gmail's 15 GB]. As generous as it can be, it is also secure. IP Network Solusindo [the company offering this email service] claims it has applied the latest encryption algorithms. And what I like best is that all of its servers and tier-3 data centers are located in Indonesia.
One of points of improvement that I have in mind is that the service should also try to allow users to see the inbox or currently opened or read email when they are typing a new email or reply. Just like Gmail does. What I see now is the service leads you to a separate webpage dedicated solely to typing a new email and attaching files. This way, it is impossible to take a glance at a previous email you want to use as a reference. You may open it on another tab but that would be impractical.
As for mobile use, I found no difficulty in setting up my Merahputih.id email account in my iPhone. It is seamless to say the least.
Aside from MP [Merah Putih]  Mail, the company also offers MP Boks which I assume functions as your Dropbox. It allows you to automatically upload images from gadgets, automatically back up your contact, and enjoy free 2 GB storage. But too bad it is only available for Android-powered gadgets. As an iPhone user, I have no option other than wait for the launch on Apple Store.
In the near future, the company plans to  enrich their service portfolio by launching a group chat service, social media/ forum, news portal, IPTV, marketplace, to collaboration messenger.  So it could be like what is Kakaotalk to Koreans or WeChat to Chinese.
I myself have huge expectation that this service will proliferate anytime soon so this nation is no longer overly dependent on foreign services. (*/)